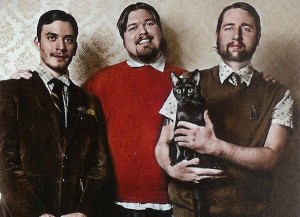 The turn of the century has seen many incredible innovations in the production and development of drum n' bass. Over the past five years the genre has been broken, recast, and mutated into perhaps the most aggressive and visceral manifestation of music today. The Atlanta-based artists Evol Intent are among the greatest purveyors of this incendiary, modern jungle sound. Operating as a three piece power troop, Knick, Gigantor and the Enemy have produced some of the most ephemeral and progressive drum n' bass to date. The outfit's uncompromising and inimitable drum tirades left an indelible mark on the U.S. scene and the globe at large. Birthed out of hardcore-punk culture, the trio developed a unique method for wrecking soundsystems. The Evol Intent approach is unmistakable: combine dynamic drum mechanics, razor sharp edits, sawtooth synths and an element of discord resonant of their punk youth. In a very short period of time the group has amassed a substantial discography while recording for their own Evol Intent label as well as numerous prestigious imprints such as Renegade Hardware, Outbreak, and Human.
Having begun Evol Intent Recordings in 2000, Knick and Gigantor were determined to create a conduit suitable for their own productions as well as those by friends and like-minded producers. The Enemy joined ranks shortly after, via the internet, and eventually relocated to contribute to the growing movement. Armed with several releases, a host of regional performances, and recognition by acclaimed publications, the next level of success was but an imminent conquest. Tracks like "Seven Angels for Seven Plagues", "Red Soil", and "Where's the Score" remix  began generating serious buzz on the dubplate circuit; in turn garnering the affection of bona fide artists like Technical Itch and Dylan and the esteemed Trouble On Vinyl music group. With Evol Intent Recrodings' acquisition of world wide distribution (initially via Alpha Magic), a high exposure 12″ release on Outbreak, and signing to the exalted Renegade Hardware, the group's incredible progression was unparalleled. Releases on the TOV sub-label, Barcode, and a remix of the Future Cut anthem, "Ghetto Style", furthered the crew's burgeoning development. With a compelling amount of quality releases and respect from the media, the trio took their gospel to nearly every corner of the globe. Extensive worldwide touring from Atlanta to Australia embedded the Evol Intent doctrine into the ears and soundsystems across dozens of nations.
The word on Evol Intent was spreading and caught the attention of Dieselboy who requested their skills for his acclaimed "Dungeon Master's Guide" compilation, remixing a track from the world-renowned BT. Their 2005 "Us Against the World" mix CD and tour have given rise to numerous developments and further collaborations particularly with barcode label mate Ewun. With the assistance of LOAD Media, Evol Intent Recordings released new material by Mumblz, Arsenic, and Counterstrike and will also feature remix treatment courtesy of techstep stalwart Technical Itch and Milwaukee based phenoms Gein. One short year later saw the guys release the "Police Sate EP" which went on to be one of the best-selling EPs by an American drum n' bass producer. Despite all these advances, Evol Intent were not content following a straight path and in an effort to branch out into different artistic releases they produced tracks for video games like the coveted EA Sports' "Need for Speed" and Adult Swim promo adds.
Having achieved a degree of accomplishment approaching pinnacle proportions, Evol Intent sees no intention of resting or becoming complacent and went full force into 2007. This past year saw them reunite with friend Dieselboy for his 'Human Resource' release titled "Evol Intent Assemble the Monster", featuring tracks that were re-edited, mashed-up and glitched. They also solidified other partnerships, this time with fellow producers Chris Renegade, Ewun, Apex and Spor to create the imprint Lifted Music. "Glock Party", Evol Intent's contribution to the label's inaugural release "The Prologue EP" became an undeniable underground smash-a track that Goldie has been spinning all over the world and boldly states that "the reaction has been mental."
As for the future, Evol Intent will be releasing their highly anticipated debut artist LP "Era of Diversion" which features the trio's signature hardcore drum n' bass sound, but the album will many surprises in store for fans, as it traverses different genres and styles. Breaking the mold and experimenting with other genres is extremely important to Evol Intent's evolution which is why they also have side projects that afford each member an extra creative outlet. Knick has partnered with fellow drum n' bass producers Mayhem and Ewun to form the breaks outfit Hostage and downtempo project Minus Music, respectively. The Enemy is working with many of Atlanta's elite MCs producing hip hop beats and produces electro bangers under the name Treasure Fingers. And Gigantor has been working behind the scenes for many Southeastern acts doing mixdowns and engineering.
Underground superstardom may well be an understatement, but the importance of Evol Intent in contemporary drum n' bass is simply undeniable. Beats that think, beats that hurt…. Evol Intent beats nonetheless